STILL LIFE : RON MUECK AT WORK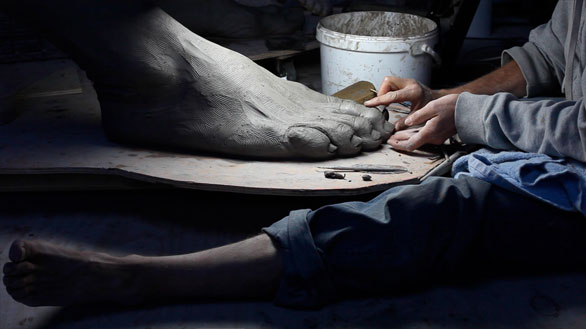 Home      Synopsis      Clips      Screenings      Press      DVD
Un petit atelier à Londres. Une impression de grand désordre de mêle à l'intime conviction d'être dans un lieu exceptionnel.
Ron Mueck, artiste secret, accepte rarement les visiteurs et une rencontre avec lui ne laisse pas indifférent. Sa discrétion ne cache pas longtemps sa grande sensibilité. Deux années durant, Gautier Deblonde a filmé régulièrement l'artiste lors de la réalisation de trois œuvres destinées à la nouvelle exposition que lui consacre le Fondation Cartier pour l'art contemporain en Avril 2013. Voir Ron Mueck au travail intrigue, impressionne, surprend. Ses sculptures, peu nombreuses, représentent toutes des hommes et des femmes dont les expressions nous sont familières. Ce sont celle du quotidien : un réalisme troublant au service d'un art profondément émouvant.
Il n'est pas question d'apprendre les techniques et le savoir-faire de l'artiste, mais plutôt de chercher pourquoi ses créations rencontrent un succès populaire dans les plus prestigieux musées du monde. Le film nous invite à comprendre ce qu'elles nous disent et à partager nos sensations éprouvées face une représentation originale du genre humain.
Un film écrit et réalisé par Gautier Deblonde
Produit par Blue Film production, Coproduit par Gautier Deblonde avec le soutien de la Fondation Cartier pour l'art contemporain
Ingénieur du son Malo Thouément – Monteur : Simon Gadrey – Etalonneur: Manuel Coutant – Post-production images : Chez Louis – Post-production son : Malo Thouément
–
A small studio in London. An impression of great disorder mixes with the intimate conviction that you are in an extraordinary place.
Ron Mueck, a secretive artist, rarely welcomes visitors, and a meeting with him leaves an impression. His reserve cannot for long hide a very sensitive nature. At regular intervals over a period of two years, Gautier Deblonde filmed the artist as he created three works destined for his solo exhibition at the Cartier Foundation for Contemporary Art. Seeing Ron Mueck at work intrigues, impresses, surprises. His sculptures, and there are but a few of them, depict men and women whose expressions are familiar to us. Expressions of everyday life: a troubling realism at the service of a profoundly moving art.
It is not a question of learning the techniques and knowhow of the artist, but rather of discovering why his creations meet with such popular success in the world's most prestigious museums. The film invites us to understand what his works say to us, and to share the sensations we experience when presented with such an original take on the human condition.
A film by Gautier Deblonde
Produced by Blue Film Production, Co-produce by Gautier Deblonde with the support of La Fondation Cartier pour l'art contemporain
Sound design Malo Thouément – Editor : Simon Gadrey – Colorist: Manuel Coutant – Post-production images : Chez Louis – Post-production sound : Malo Thouément –